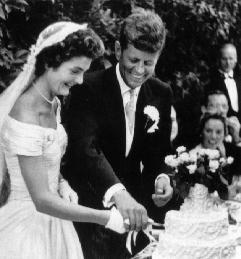 First introduced at a May 1951 Georgetown dinner party, John F. Kennedy and Jacqueline Bouvier saw each other frequently over the next two years. During that time, she would interview the newly elected senator for her "Inquiring Camera Girl" newspaper column. In June 1953, upon her return from Europe where she covered the Coronation of Queen Elizabeth for the Washington Times Herald, Jacqueline Bouvier accepted John Kennedy's proposal of marriage.

On the morning of September 12, 1953, more than 750 guests filled St. Mary's Church in Newport, Rhode Island to watch as John Kennedy and Jacqueline Bouvier exchanged wedding vows in a ceremony presided over by Archbishop Richard Cushing. For the occasion, the church had been decorated with pink gladioli and white chrysanthemums. Boston tenor Luigi Vena sang "Ave Maria." Following the 40-minute ceremony at which a papal blessing was read, the new couple emerged into a throng of 3,000 well-wishers as they made their way by motorcycle escort to Hammersmith Farm, the Auchincloss estate overlooking Naragansett Bay.

After two hours of greeting family and friends in a receiving line, the bridal couple joined the 1,200 invited guests for champagne and dancing to the music of Meyer Davis and his orchestra. For the first dance, the Kennedy's chose "I Married an Angel." (Davis, who had played at the wedding of Jackie's parents, would later perform at the 1961 Inaugural Ball). Following the cutting of the five tier wedding cake, a luncheon of fruit cup, creamed chicken and ice cream sculpted to resemble roses was served.

Late in the afternoon, Senator and Mrs. Kennedy departed Hammersmith Farm amid a shower of paper rose petals. They traveled to New York to spend the night at the Waldorf Astoria before continuing on to Acapulco, Mexico for a two-week honeymoon.

Purchased in the summer of 1953, the Van Cleef & Arpels engagement ring John F, Kennedy presented to Jacqueline Bouvier consisted of one 2.88 carat diamond mounted next to a 2.84 carat emerald cut emerald with tapered baguettes. In 1962, the ring was reset to include round diamonds totaling .66 carats and marquise diamonds totaling 1.46 carats.

Jacqueline Bouvier's ivory silk wedding gown required 50 yards of ivory silk taffeta and took more than two months to make. It was the creation of Ann Lowe, an African-American dress-maker born in Grayton, Alabama, who had designed gowns for the matrons of high society families including the du Pont, Lodge, and Auchincloss families. Ms. Lowe was 54 when she designed the Bouvier wedding dress which featured a portrait neckline and bouffant skirt decorated with interwoven bands of tucking and tiny wax flowers. She also designed the pink faille silk gowns and matching Tudor caps worn by the bridal attendants.

The wedding gown was recently restored by staff from the Textile Conservation Center of the American Textile History Museum in Lowell, Massachusetts. The bride wore her grandmother's heirloom rosepoint lace veil, attached to her hair with a small tiara of lace and traditional orange blossoms. She also wore a single strand of family pearls, a diamond leaf pin which was a wedding present from Ambassador and Mrs. Joseph P. Kennedy and a diamond bracelet the groom had presented to her the evening before the wedding. She carried a bouquet of white and pink spray orchids and gardenias.

At the bridal dinner, held at Newport's Seaside Clambake Club on September 11, Senator Kennedy presented each usher with a Brooks Brothers umbrella engraved with his initials and the wedding date.

Senator John Kennedy's best man was Robert F. Kennedy. His ushers were Edward M. Kennedy, Charles Bartlett, Michael Canfield, George Smathers, K. LeMoyne Billings, Torbert MacDonald, Charles Spalding, James Reed, Benjamin Smith, Joseph Gargan, R. Sargeant Shriver, Paul B. Fay, Jr., and Hugh D. Auchincloss III.

Jacqueline Bouvier's matron-of-honor was Lee Bouvier Canfield. Her maid-of-honor was Nina Auchincloss and her flower girl was Janet Auchincloss. Her bridal attendants were Nancy Tuckerman, Martha Bartlett, Ethel Skakel Kennedy, Jean Kennedy, Shirley Oakes, Aileen Travers, Sylvia Whitehouse, and Helen Spaulding.

The eight-Minute color home movies were taken by President Kennedy's friend Paul "Red" Fay, who happened to bring along his 8 mm camera.