Blithewold Mansion & Gardens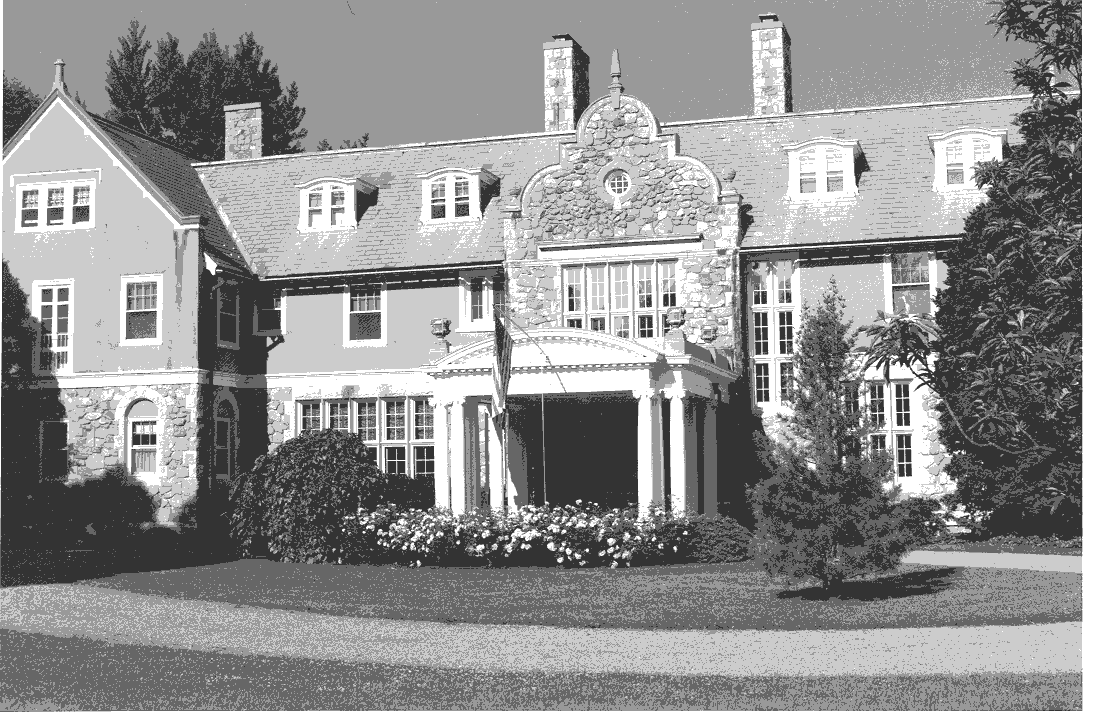 Blithewold Mansion & Gardens, located at 101 Ferry Road (1.5 miles south of State Route 114) in Bristol, Rhode Island (zip code 02809-0716), is an early twentieth century summer estate built in 1908 overlooking Narragansett Bay. Majorie Van Wickle Lyon, daughter of the estate's founders, bequeathed the property to the Heritage Trust of Rhode Island in 1976.
Blithewold Mansion & Gardens is the former summer residence of Pennsylvania coal baron Augustus Van Wickle, and was built in the style of a 17th century English country manor house. The estate features a 45-room, stone and stucco, turn-of-the century mansion overlooking Narragansett Bay and 33 acres of historic landscape. The mansion contains original furnishings and floral arrangements portraying a gracious turn-of-the-century lifestyle much as it originally was in its early years -- with guided mansion and grounds tours Tuesday to Sunday and most holidays from 15 April to 1 October, 10:00am to 5:00pm (every 45 minutes). Grounds are open year-round (with the mansion also being open during the Christmas season), and the estate is a beautiful site for group functions (a wedding for that evening was being planned on the date that S&L had visited) and has wheelchair access. There is a museum store which carries a beautiful wood-carved magnet, and there is an admission fee to the mansion and grounds which cannot be discounted in any way, shape, or form. Events are scheduled year-round, and picnicking is permitted.
The Garden's historic, exotic landscaped grounds, gardens, and exotic plants -- created by New York's John DeWolf -- has changed little from the estate's founding in 1895 and has been maintained in its original turn-of-the-century design. Located seaside on Narragansett Bay with beautiful vistas, Blithewold's arboretum is one of the very few bordering salt water. Of interest is a 90-foot giant sequoia, or the Sequoiadendron giganteum, native to California and is thought to be tallest east of California. The Bamboo grove of Pyllostachys auerosulceta is the largest in the Northeast. A pamphlet identifies the many tree species along a self-guiding trail. The average time it took us to walk through the aboretum -- visited on the morning of 5/30/99 -- was 90 minutes, and the best seasons for viewing are Spring and Fall. The various gardens include Rose, Rock, Greenhouse, and Water Garden. There are special cutting collections.
The mission of Blithewold Mansion & Gardens is to preserve and maintain the condition and character of the estate in accordance with professional standards; to foster public enjoyment of its aboretum, grounds, and buildings; to further the understanding of its cultural and historic heritage; and to maintain a balance between site use and preservation.

From here you may continue on a tour of all the mansions we have visited within Rhode Island in the order that we have seen them, go to an overview of all those RI mansions, go back to our Rhode Island page, or return to the beginning of S&L's Adventures Emporium.